UPSET in Dutch media 
2018- UPSET produces suit for Minister Bruins of textile waste in collaboration with Khaloom and Suitsupply
MVO Nederland:Minister Bruins wears suit of textile waste during presentation of annual national financial plan
Duurzaam Ondernemen: Minister Bruins wears suit of textile waste during presentation of annual financial plan for The Netherlands
De Telegraaf: Minister in Sustainable jeans to the presentation of the annual financial plan for The Netherlands
2018- Pals Brust (CEO of UPSET Textiles) about the mission of UPSET
Duurzaamheid.nl: Collaboration in a circular textiles value chain
BNR Radio: From cutting waste to yarns: smart recycling of cotton!
The Manu Sharma Show: A Sustainable Textile Start-Up
Baaz magazine: A 100% circular textiles value chain? Sure that is possible!
2018-UPSET textiles handed a 100% circular dress to our minister Sigrid Kaag of international trade and development collaboration
UPSET textiles joined forces with Khaloom, a circular fabric supplier in Bangalore that produces circular handwoven fabrics, and the Dutch designer Ronald van der Kemp, who designed clothes for celebrities like Beyoncé en Katy Perry. Together, they handed over a red, handwoven and 100% circular dress to our Minister Sigrid Kaag during the trade mission in India May 2018.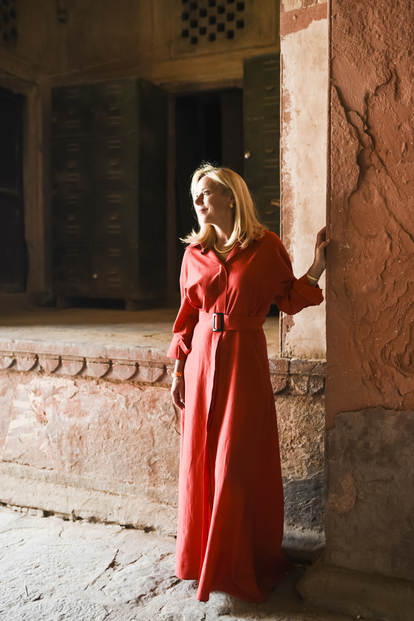 Vogue: Minister Kaag wears in India with circular dress designed by Ronald van der Kemp 
Duurzaam Ondernemen:  Minister Kaag wears circular dress of top designer in India 
Ministerie van Buitenlandse Zaken: Minister Kaag wears in India circular dress of top designer
MVO Nederland: Minister Kaag wears in India a circular dress made by Dutch top designer
Photo: Ministerie van Buitenlandse Zaken